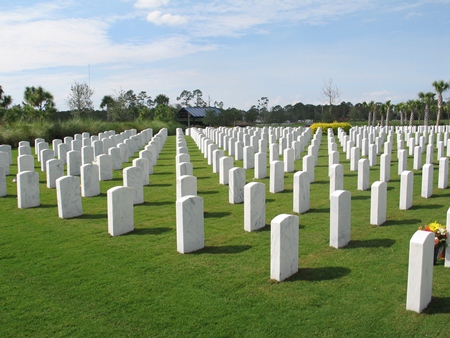 HOURS
Office Hours: Monday thru Friday 8:00 a.m. to 4:30 p.m. Closed federal holidays.
Visitation Hours: Open daily from sunrise to sunset.
BURIAL SPACE
This cemetery has space available to accommodate casketed remains, cremated remains and a Memorial Wall for memorialization.
ELIGIBILITY
Burial in a national cemetery is open to all members of the armed forces who have met a minimum active duty service requirement and were discharged under conditions other than dishonorable. A Veteran's spouse, widow or widower, minor dependent children, and under certain conditions, unmarried adult children with disabilities may also be eligible for burial. Eligible spouses and children may be buried even if they predecease the Veteran. Members of the reserve components of the armed forces who die while on active duty or who die while on training duty, or were eligible for retired pay, may also be eligible for burial. For more information visit our eligibility web page.
DIRECTIONS FROM NEAREST AIRPORT
From the North: Via FL Turnpike: Exit Lake Worth Road (# 93), turn left heading West until you come to SR 7 / US 441. Make a left heading South until you pass Lantana Road. Cemetery is on your right.
From the South: Via FL Turnpike: Exit Boynton Beach Boulevard (# 86), turn left heading West until you come to SR7 / US 441. Make a right heading North. Cemetery is on your left just North of Hypoluxo Road.
Via I-95: Exit Hypoluxo Road (# 60), turn left heading West until you come to SR7 / US 441. Make a right heading North. Cemetery is on your left.
Via I-95 from PBI: Exit Lantana Road / FL 812 (# 61), turn right heading West until you come to SR7 / US 441. Make a left heading South. Cemetery is on your right.
From Palm Beach International Airport (PBI) start out West on Turnage Boulevard and follow that to Australian Avenue South and take the ramp to Southern Boulevard. Merge onto Southern Boulevard heading west and take that all the way to State Road 7/Highway 441. Turn left/south on 7/441 and follow that to cemetery entrance on right-hand side one mile south of Lantana Road intersection.
SCHEDULE A BURIAL
Fax all discharge documentation to the National Cemetery Scheduling Office at 1-866-900-6417 and follow-up with a phone call to 1-800-535-1117.
For information on scheduled burials in our national cemeteries, please go to the Daily Burial Schedule.
GENERAL INFORMATION
The new 313-acre South Florida National Cemetery will serve veterans' needs for the next 50 years. The cemetery is located in Palm Beach County in Lake Worth on State Road 7/U.S. 441 just south of Lantana Road and north of Boynton Beach Boulevard.
Burial arrangements will be made after death, as with all national cemeteries. VA does not reserve grave space. Veterans or spouses wishing to be buried in national cemeteries should have the veteran's military separation papers available to establish eligibility, which requires an other-than-dishonorable discharge. Dependent children may also be buried.
For educational materials and additional information on this cemetery, please visit the Education section, located below.
FLORAL/GROUNDS POLICY
Fresh cut flowers may be placed on graves at any time. On the day of burial please limit one floral arrangement for cremation sites and three for casket sites.
The cemetery does not provide floral containers. However, bins are located near the administration office with recycled containers for your use.
Flowers and containers will be removed from graves when they become withered, faded or otherwise unsightly or to facilitate cemetery operations.
Potted plants are permitted on graves 5 days before through 5 days after Easter Sunday and Memorial Day.
Unauthorized decorations including permanent plantings, statues, vigil lights, breakable objects of any kind, and similar commemorative items are not permitted at any time. Nothing is to be attached or placed on the headstone.
WEAPONS POLICY
VA regulations 38 CFR 1.218 prohibit the carrying of firearms (either openly or concealed), explosives or other dangerous or deadly weapons while on VA property, except for official purposes, such as military funeral honors. Possession of firearms on any property under the charge and control of VA is prohibited. Offenders may be subject to a fine, removal from the premises, or arrest.
HISTORICAL INFORMATION
South Florida National Cemetery is the fifth national cemetery built in Florida and the 125th in the national cemetery system.
Historically, the site of South Florida National Cemetery was used as farmland, as evidenced by the historic canal systems used to irrigate the property. Portions of the site were used for cattle grazing up until the time of its purchase by the National Cemetery Administration in 2002.
The development of Palm Beach County, and South Florida in general, was sparked by the investment in the local railroad system by Henry Morrison Flagler. An early partner of Standard Oil with John D. Rockefeller, Flagler left the company in the late 19th century, turning his attention to the creation of a continuous railway system down the east coast of Florida, stretching from Jacksonville to Key West. This railway was instrumental to the rapid growth of Palm Beach County in the 20th century.
South Florida National Cemetery opened for burials in 2007, and was formally dedicated on March 9, 2008.
NOTABLE PERSONS
Under Development.
EDUCATION
We are developing educational content for this national cemetery, and will post new materials as they become available. Visit the Veterans Legacy Education Program for details, or the Veterans Legacy Program and NCA History Program for additional information. Thank you for your interest.